Wasn't a Steve McQueen in sight.
It's been five days since I returned from The Great Escape (TGE) festival and I'm starting to think that if I don't write up some sort of review soon then I may as well not bother. It's starting to get a bit
like writing about what christmas presents you want in the middle of July. You're so late people are starting to think that you might be early for next year.
So, this was my first Great Escape and I'll be upfront here, I thought it was really good. My first impression was one of relief when I got there and realised that the thing was actually pretty decently organised. There were quite a few 'representatives' dotted about and it didn't take us long befoe we located where we should get our wristbands from. From here we tried to watch our first act - we had to miss the whole Friday due to work - of the festival - Fionn Regan.
Regan was playing at a bar called Horatio's on Brighton Pier and by the time we got there (despite being early) the queue was already pretty long. Now, we've witnessed the miracle of my short attention span many times on this blog and I won't lie here and say that I wasn't being drawn into the bar next door that was all of the following:
a)
in total darkness aside from a mirrorball
b)
full of people that were absolutely ruined. At 2pm.
c)
playing 'Dancing Queen' and everyone one was singing along.
Not entirely my scene BUT I just loved the contrast of this joint with all the scenesters queueing up for Fionn Regan. All too cool for school in too tight clothes whilst some fat girl in the bar next door is losing her shit to the 'Macarena'. I'm all about things like that. That's life right there people. Anyway, we couldn't get in to Fionn Regan because it was too busy so we pissed about for a while until this guy Mrs, Meet Dinosaur really digs - Benjamin Francis Leftwich - was on.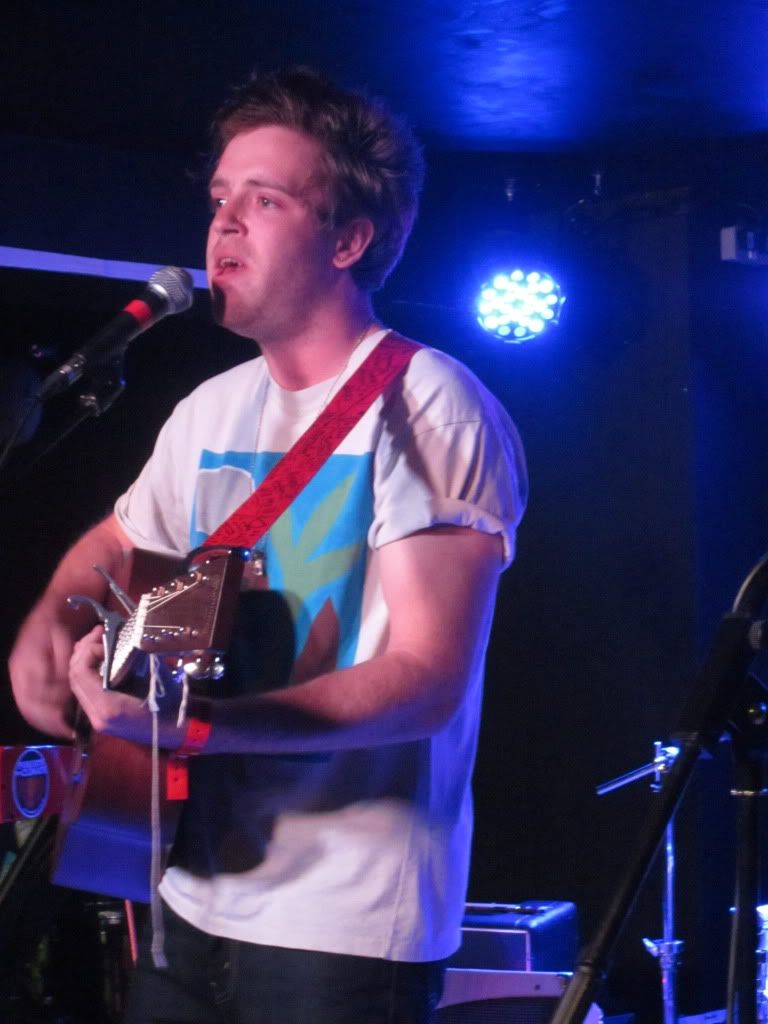 Benjamin Francis Leftwich. 'Jamin to his mates.
I know what you're thinking, 'what a ridiculous name. who is this guy?' and for what it's worth, I agree. To give him credit, trusted online resource Wikipedia suggests that his name really is Benjamin Francis Leftwich so at least he's not called Dave Jones or something. Still, just go with with Ben Leftwich in future ay mate? I was quite impressed with this guy anyway. The whole set was acoustic singer songwriter stuff but he's got a really nice voice that even stood up acapella with no mic, nice little songs too. Worth checking out if you're into that sorta thing. He does look a bit like a posh British version of Spencer from
'The Hills'
sometimes though, through no fault of his own.
After this guy we didn't see any bands for a bit. Not for a lack of wanting I'd like to add. It's more because Brighton is a cool place with lots to see and do so we just mooched about and soaked up the culture. By that I mean we bought some chips and sat by the sea for ages watching some skateboarders and it was really enjoyable. If any skateboarders are reading btw, are any of you any good? I don't mean to knock something that is probably well hard but whenever I watch someone on a skateboard they always seem to be shit. Look, I could do a 540 and a perfect kick flip within FIVE MINUTES of playing Tony Hawk's on the PS1 so step yo game up Brighton skateboarders.
After our little break it was time for, well, the main reasons we bothered going to this thing: The Antlers and Okkervil River. Yes, I should've explored more, I know, I know. Put simply though, if they weren't playing, I wouldn't have bothered. That's how easy I'm put off live music these days. Give me five years and the only festival I'll be going to will be the annual Man, Meet Dinosaur fest which, by then, will be a pretty big deal I should think.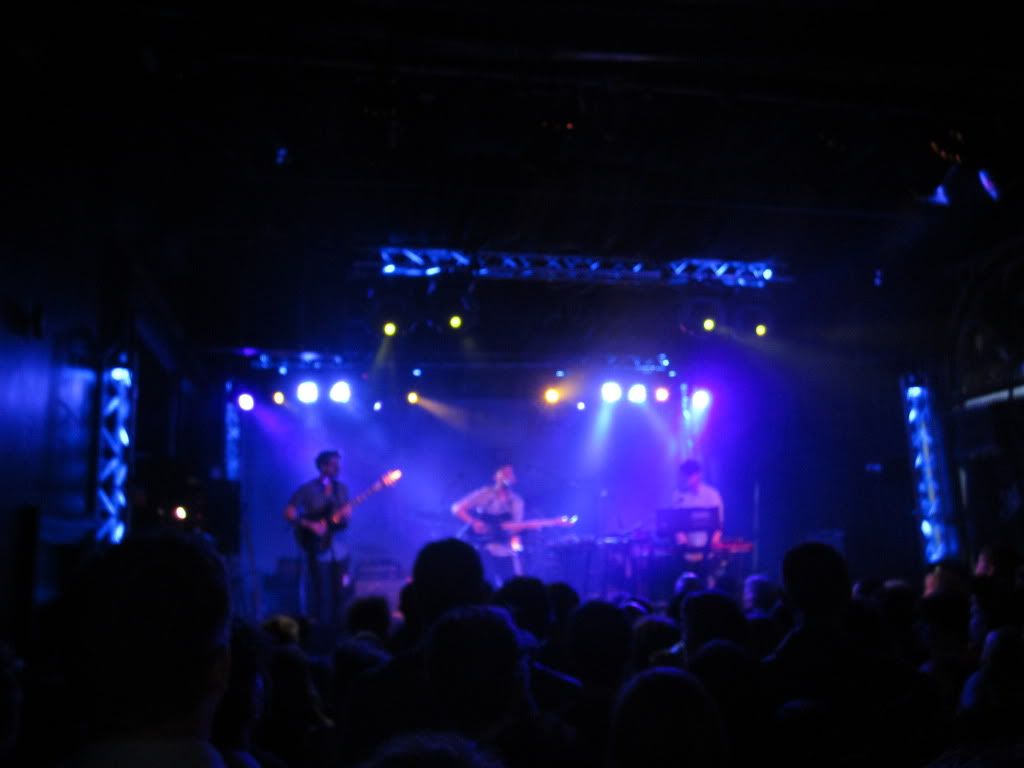 This is The Antlers. You'll have to Trust me on this one although from this picture granted, it could be like, The Wanted.
The Antlers are currently on a pretty big world tour in support of their new record '
Burst Apart'
and their TGE set consisted wholly of songs from this album. I'm still yet to hear this album such is my excitement of not giving in to listening to it until I have a physical copy in my greasy mitts. Consequently, my connection with some of the songs played was nowhere near as big as it would've been if they'd played some songs from the
incredible
'
Hospice'
. The band have gained a (touring at least) member with a second guitarist being drafted in since the last time I saw them and going on first impressions only, they're a lot
louder
now than on previous tours. I'm really excited to hear this new record and going on this set, it sounds like it has some proper songs on it. Must say though, I heard this tune '
I Don't Want Love'
for the first time at this show and it hit me like a sledgehammer. From a completely cold and previously unknown standpoint, that's a pretty special thing. Expecting big things when I hear the recorded version of this song.
Black Sheep Boy'
I completely understand the decision. At a festival like this, your main aim has to be to win over new fans. You also have to assume that the majority of the crowd don't know you and consequently are pretty indifferent to what you've got to play for them. To this end it was no shock to hear the band play a set entirely consisting of their most upbeat, catchy and memorable songs. All of 'em chockful of big hooks. '
For Real', 'Unless It's Kicks', 'Lost Coastlines'.
All great songs that'd make any best of OR cd you'd make for the uninitated. Trust me, I lknow, I've made enough of them bitches.
The band were in fine form, I must say. Their enthuasism and love for what they do is always evident and compared to many other miserable bastards, it's refreshing to see. Frontman Will Sheff continues to grow into his voice and his confidence seems to increase from show-to-show, record-to-record. Dude has no worries with stripping everything out until his only his voice remains and, in a live setting especially, this is something that works really well.
I Am Very Far'
has been received pretty well from what I've read (that being every review written) and I truly hope this fantastic band receives some crossover success of the back of this one. Quite simply because they deserve it and I'm sick of them being ignored. There's one song on IAVF that has the potential to forcibly shove this band into the spotlight and I was genuinely shocked they didn't play it at TGE. It's called '
White Shadow Waltz'
and if it's not released as the next single or the one after that I'll eat my hat and my cat. It's an epic building Arcade Fire of a song. Check it out and if you haven't already, check this band out too. And Great Escape Festival, check that shit too, it's good. See you next year.